WORKING WITH DG ECHO PROGRAMMATIC PARTNERSHIP | 2021 - 2027
PILOT PROGRAMMATIC PARTNERSHIPS
In 2020, DG ECHO started piloting Programmatic Partnerships with INGO partners (ACTED, Concern, IRC and STC-DK). This was followed in 2021 by pilot Programmatic Partnerships with UN agencies (UNICEF and FAO) and IFRC. In 2022, in the third – and last – pilot phase, Programmatic Partnerships were launched with ICRC and OCHA.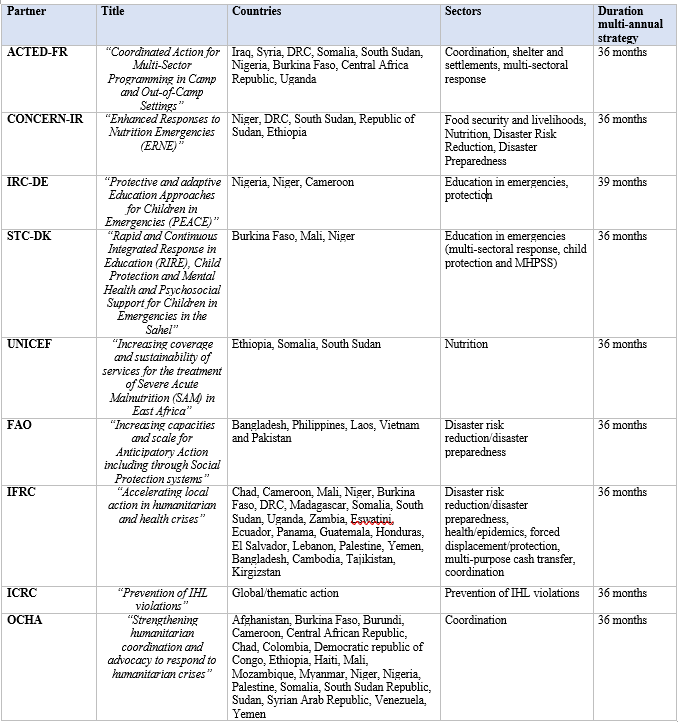 LESSONS LEARNED
Lessons learned from these pilot Programmatic Partnerships confirmed the interest of partners for:
&nbsp
the possibility to have a single agreement covering many countries, with opportunities of cross-fertilization and exchange of good practice.

the longer-term perspective allowing partners to implement strategies requiring more time and generating economies of scale

the overall, outcome driven, log-frame, allowing more flexibility to adapt the programme to new unexpected needs

the simplified reporting (one Interim Report instead of many) and the opportunity to test the 8+3 model

the enhanced dialogue both at field and headquarters' level including exchanges on technical issues of common interest (greening, innovative financing, nexus, digitalization,…).
&nbsp
&nbsp
Partners pointed at some negative aspects of the experience:
A selection process considered too heavy and disconnected from the normal HIP selection process

Complex communication channels with different levels of engagement

Lack of ownership by the field, both from DG ECHO side and from the partners side, (as the process was seen as very much top-down)

Lack of clear guidance from the start.
DONOR ROUNDTABLE
In September 2022, DG ECHO co-organised with StC and IRC a Donor Roundtable on multi-annual European humanitarian partnership models, with the participation of some EU Member States and their INGO programmatic partners.
The full report of the Roundtable can be found here